Content Enablers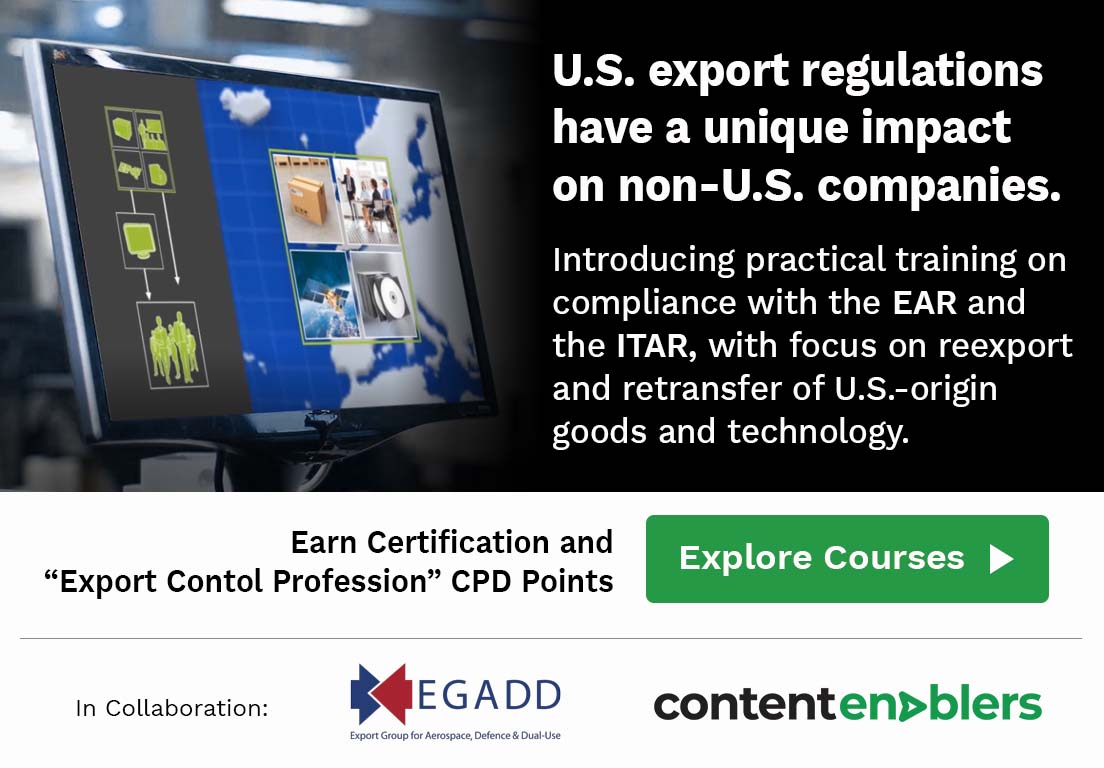 EGADD is proud to partner with Content Enablers, the global leader in online trade compliance training, to offer function-specific online training courses specifically designed to meet the unique trade compliance training needs of our member companies.
U.S. Export Compliance Certification Series for Non-U.S. Practitioners
Welcome to the new standard in training for trade compliance practitioners located outside of the United States. Non-U.S. companies have unique compliance responsibilities under U.S. export regulations when receiving, working with, and reexporting products, services, and technology of U.S. origin. CE's new U.S Export Compliance Certification Series for Non-U.S. Practitioners presents the in-depth content practitioners need to address the complex, ever-changing U.S. compliance challenges that non-U.S. companies face.
Each course offers a full year of course access, regulatory updates, and nine interactive case studies tailored to the non-U.S. export compliance professional. Also included are certification and Continuing Professional Development (CPD) points from the UK's Institute of Export and International Trade. Each learner also gets access to a series of exclusive in-person and on-demand continuous learning webinars and events from industry experts, government leaders, and globally recognised subject matter experts.
Role-Based UK Export Controls Awareness
Content Enablers started with its engaging, non-jurisdictional Trade Compliance Overview, then added microlearning elements on key concepts relevant to UK learners. Tailored training is available for employees in the areas of: Engineering, Executive Leadership, General Employees, Human Resources, and Marketing. Each training contains real-world functional scenarios to illustrate how these concepts play out on a day-to-day basis.
Each annual subscription includes the baseline training module, Continuing Professional Development points from the UK's Institute of Export and International Trade, and monthly vignettes that remind, reinforce, and apply key compliance concepts.
The UK Bribery Act 2010
This course is designed to help users subject to the jurisdiction of the UK understand their personal and corporate responsibilities under the Bribery Act 2010. The training includes an overview of the act, situations considered bribery that are prohibited by the act, penalties, and a discussion of the six principles that constitute "adequate procedures" that companies can take to minimise the risk of bribery taking place.
Upon completion of this course, learners will earn Continuing Professional Development units from the Institute of Export and International Trade.